Ringling Bros. Celebrates 146 Years! How many of these fun facts did you know about Ringling Bros. in NYC?

Interesting things happen when The City Without a Zip Code crosses paths with The City That Never Sleeps. As Ringling Bros. and Barnum & Bailey® approaches its final performances, we wanted to share some little-known facts about Ringling Bros.® in the Big Apple. Do you remember any of these "only in New York" moments?
The Annual Elephant Walk
Until 2011, the Ringling Bros. elephants paraded from Long Island City through the Queens-Midtown Tunnel, down 34th Street to Madison Square Garden. Despite the sporadic train schedule, every year crowds would gather to get a glimpse of the famous pachyderms walking the streets of Manhattan.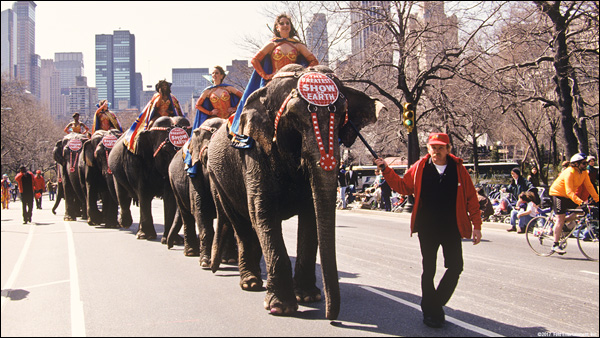 Photo: Ringling Bros. elephants and performers walk toward Madison Square Garden in 1993
The First All-African-American Act Hails from the Bronx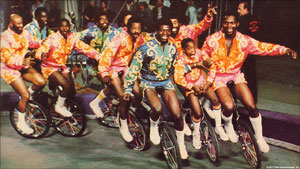 Photo Left: Members of the King Charles Troupe celebrating their 10th Annersary with The Greatest Show On Earth® in the 1970's.
The legendary King Charles Troupe auditioned for Irvin Feld in 1968 on the sidewalk outside Madison Square Garden. The Bronx-based unicycle-riding basketball troupe impressed the then-new owner of Ringling Bros. with its incredible skills and comedic antics. The troupe debuted on the show one year later, becoming the first all-African-American circus act in Ringling Bros. history. Today, there are three generations of performers in the current troupe performing with Out Of This World®, including a father and son working together.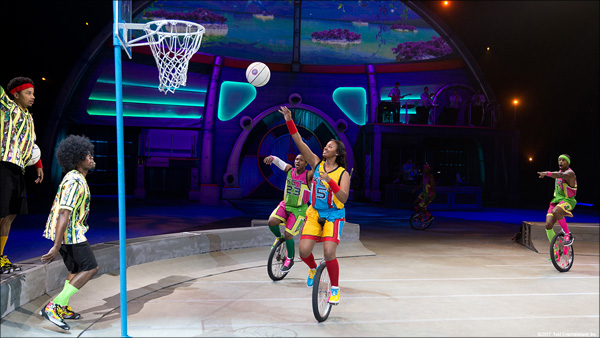 Photo: The current King Charles Troupe performing in Out Of This World features grandchildren of some of the troupe's founding members, including Aaniya Raphiel, KCT's first female member in more than 30 years.
Gunther Gebel-Williams is in the MSG Walk of Fame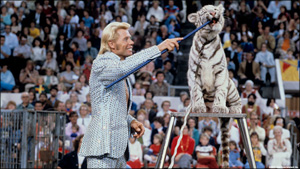 Photo Right: Gunther Gebel-Williams plays with a tiger cub during his farewell tour in 1990.
In 1995, world-famous animal-trainer Gunther Gebel-Williams was inducted into the Madison Square Garden Walk of Fame for holding the record for the most performances by any entertainer in the famous arena. He never missed a single performance during his 30-year tenure with The Greatest Show On Earth. Gebel-Williams was renowned for the amazing relationship he built with animals of all species. In Out Of This World, trainer Alexander Lacey continues the tradition, presenting his beautiful Big Cats, as well as a mixed animal act with his wife, Katie.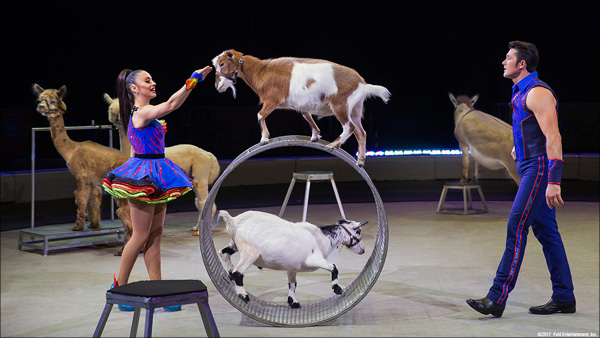 Photo: Animal presenters Alexander and Katie Lacey perform in

Out Of This World.
Better Together: Ringling Bros. and Barnum & Bailey Debuted at MSG
In 1919, the combined circus of Ringling Bros. and Barnum & Bailey made its debut at Madison Square Garden.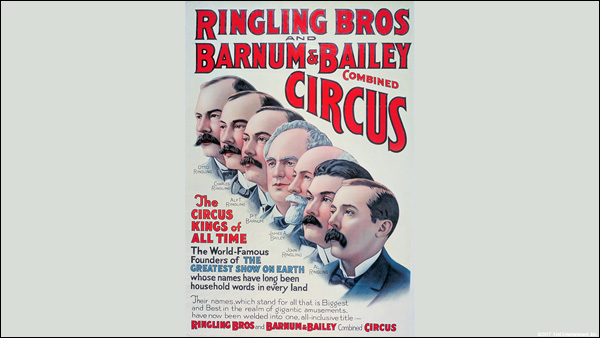 Ringling Bros. Elephants Performed a Balanchine Ballet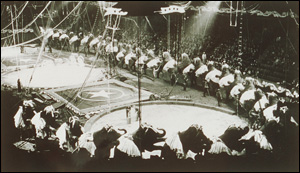 In 1942, George Balanchine and Igor Stravinsky collaborated on a ballet … for elephants. Fifty elephants, with 50 ballerinas on top of them, danced in pink tutus at Madison Square Garden to "Circus Polka: For a Young Elephant," kicking off the performance season. Balanchine's wife, Vera Zorina, was the principal ballet dancer who led the troupe atop Modoc, the oldest elephant on the unit.
Photo Right: Ringling Bros. elephants perform their first ballet on April 9, 1942 at MSG.
A Spectacular Up-Close-and-Personal Experience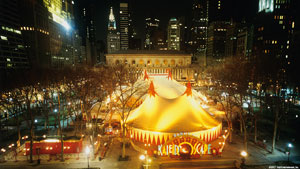 In 2000, Ringling Bros. set up a tent in Bryant Park to present Barnum's Kaleidoscape, a luxurious, intimate experience that offered seating on velvet chairs, gourmet concessions and an after-show reception with the performers. It was the first domestic Ringling Bros. production to be held under a tent since 1956. Theater critic Clive Barnes said, "This is the kind of show for which God invented the circus."
Ringling Bros. Presents Kaleidoscape takes over Bryant Park in 2000.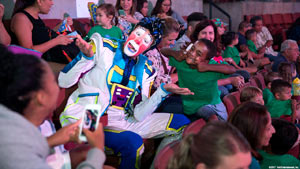 Children Of All Ages have the opportunity to interact with performers in Out Of This World at the Starseeker's Early Access™, free with your ticket. The fun starts one hour before the show.
It's No Joke: A Caring Commuter Once Helped the Show Go On
On March 31, 2007, headliner clown Bello Nock was putting on an impromptu performance outside of Grand Central Terminal with two other clowns on the unit after picking up their giant clown shoes from a shoe shiner. He rested his miniature bike against a pole to do handstands on a taxi and accidentally forgot it when he left to head back to MSG. He held a press conference on April Fools' Day asking New Yorkers to help find the foot-tall contraption and offered a reward. Ricky Robinson of Bridgeport, Conn., returned the bike just in time for opening night. In exchange, he received $1,000, a new bike, circus tickets and New York Knicks tickets.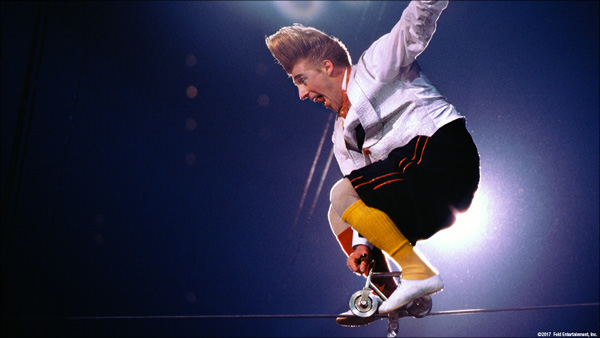 Photo: Bello Nock performs on a high wire with his miniature bike that had been recovered by a commuter.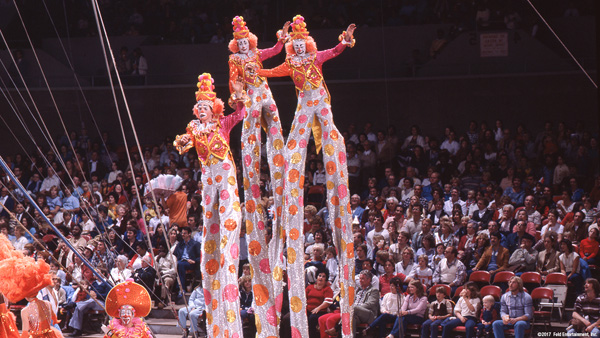 We Reached the Sky
On May 20, 1981, Ringling Bros. clown and stilt walker John Russell entered the Guinness World Records book for stilt walking. He walked on 33-foot high stilts at Madison Square Garden.




John Russell (middle) sets a new record for stilt walking in 1981.


We Give Back to the Community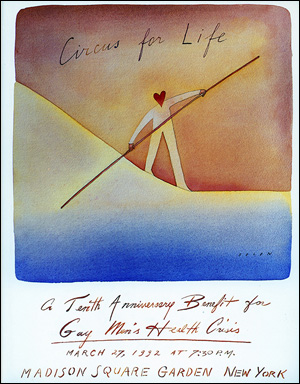 On April 30, 1983, Ringling Bros. and the Gay Men's Health Crisis put on the first-ever major fundraising event for AIDS in the country. It was also the first charity event to sell out MSG in advance. It raised $300K—double its goal. Along with funding from state and city agencies, the fundraiser allowed the GMHC to move its headquarters and hire new staff. New York City Mayor Ed Koch gave a speech vowing to do whatever possible to help find a cure for the epidemic. Patti LuPone was a presenter, and Leonard Bernstein led the orchestra in the performance of "The Star-Spangled Banner." It was heralded as the "greatest gay event of all time."

Ringling Bros. is proud to have worked with several charities over the years, both to raise funds and to send underprivileged children to the circus for free. Recent New York partnerships include Harlem Children's Zone, Services for the UnderServed, The Black Cotton Foundation, Judith C. White Senior Center at Greenwich House, The Holy House of Prayer and The Sunshine Kids Foundation.
Photo Right: Program book cover for the 10th Anniversary GMHC Circus Benefit.
Ringling Bros. and Barnum & Bailey Presents Out Of This World is playing at Barclays Center February 23rd through March 3rd, Prudential Center from March 9th through March 12th, and the New Coliseum from May 12th through May 21st. For showtimes and details, visit ringling.com/nynj.